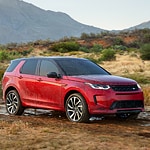 The Land Rover Discovery Sport couples luxury and off-road performance, making the vehicle popular among car enthusiasts who love off-road adventures. The 2022 Land Rover Discovery Sport packs multiple capability features that our team at Land Rover Cape Fear thought you should know about.
A 2.0L inline-four engine that is turbocharged powers this SUV. The transmission is 9-speed automatic, and you will get 269 pound-feet of torque and 246 horsepower from this vehicle.
The all-wheel-drive drivetrain enables the car to push through bumpy terrain. The maximum payload capacity is 1,585 pounds, and the SUV can tow up to 4,409 pounds. Wade sensing and tow hooks allow you to enjoy your adventures away from Wilmington fully.
More features reinforcing the car's off-road abilities include terrain response, all-terrain progress control, and hill-descent control. The 2022 Discovery Sport offers a smooth ride on the road and is comfortable to use for your off-road adventures.