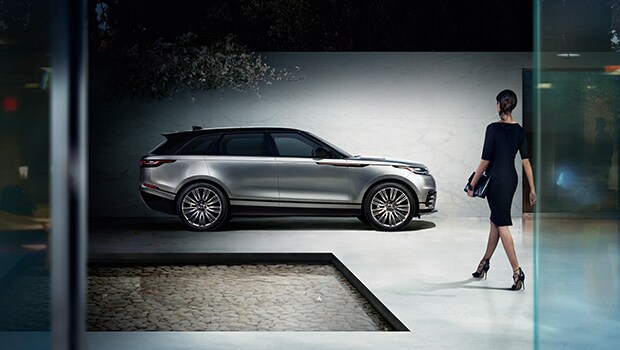 Hear What Our Customers Have to Say
"What Really Sets LRCF Apart is the Incredible Staff."
We have been loyal LRCF customers since 2004. We just recently purchased our 6th Land Rover from them, and will undoubtedly be back when it's time for the next. The product sells itself so I'm not going to comment on the vehicles, this review is only on the dealership. Selection. LRCF always has a great selection of the entire Land Rover product line on the lot. I have always been able to find a vehicle to satisfy my needs on the lot. They have a wide variety of variants and trim levels. Trade in. I have always gotten top dollar for my trade in at LRCF - they are exceptionally fair and generous - they have always given me top resale value for my vehicles. Pricing. I hate haggling. I know what I want to pay and what I can afford. LRCF has always met my requirements with extremely fair pricing and great financing, all done during the transaction. Sales Guide and Staff. I suspect that pretty much everything I have said in this review would apply to most Land Rover dealerships. What really sets LRCF apart is the incredible staff. Matt Meakin has been our Sales Guide since 2004 - I have tremendous confidence in his ability and his judgment. He is low-keyed and really dialed in to what we are looking for in a vehicle. He takes the time to ensure the entire transaction is smooth, efficient, and fun. Plenty of time for test driving and vehicle exploration and no high-pressure sales at all. The management and service staff are terrific as well. They are what make buying a Land Rover an exceptional experience - that, and the terrific vehicle. I would recommend LRCF to anyone.
Jon, Jacksonville, NC
"Best Car Purchase Experience We've Ever Had!"
About three weeks ago, we purchased a 2013 Rav4, and we couldn't be more pleased with both the vehicle and the customer care we received. Matt (and Ruffin) were great! This was probably the best car purchase experience we've ever had, and would certainly recommend LRCF. Thanks so much!
DeAnna, Faison, NC
"I would recommend Cape Fear LR to anyone"
Just purchased my first Land Rover from Karl. He took very good care of me and made my out of state purchase easy. I love my new Evoque Coupe, and I enjoy all the "thumbs up" I get from other drivers.. I would recommend Cape Fear LR to anyone. 
Glen, West Chester, OH
"We Really Liked The Car"
On January 3rd, my husband and I went car shopping. We headed to Wilmington to look at the Evoque and the Fiat 500L. Two totally different vehciles but I loved both and wanted to test drive each. Went to the Fiat place first and loved it! My husband was not thrilled. Left the Fiat dealership and finally found the Land Rover dealership. It is tucked away and a little difficult to find for those who don't know their way around Wilmington. Pulled up on the lot and was greeted by Karl. What a pleasant person he is. He told us all about the car, went with us on a test drive, and answered all our questions without being the least bit pushy. Karl helped very much in our decision to buy the Evoque. We already liked the car, Karl just helped seal the deal.
Lois, Conway, SC
"Exceptional Service"
Customer service is always top notch.
Josh, Nahunta GA
"New Buyer"
Matt Meakin is an awesome sales guide. We enjoyed our experience and feel we were treated very fairly.
Steven,New Bern, NC
"Exceptional Service"
This visit was to replace an A/C vent control that was broken when I purchased the pre-owned LR2. The entire process, including washing the vehicle, was less than an hour. Everyone that I have met there has been very cordial. Thank one and all.
Robert, Wilmington NC
"Exceptional Service"
Hey buddy!! Just wanted to say how pleased I have been with the service I received from the service dept. I just had my 3rd service since I purchased my 2011 LR4 (yes, I drive A LOT). Your folks do a great job and represent you well. They are very professional and easy to work with. The "return to new" detail was fantastic. The detail guy did an awesome job?looks like a new one. Keep up the great work!!
Robin, Southport, NC
"New Buyer"
Good morning!! I just wanted to drop a note and say how impressed I was with your dealership and especially Matt Meakin. I have always owned Chevy Tahoes and was really on the fence about buying a Land Rover since I had never owned one. I looked at LRs for about 6 months and drove  every type LR and RR you have. Matt was always extremely professional and courteous as I asked him a million questions and came in for test drives. He always got back to me extremely quickly, answered every question in detail and best of all I never felt like I was being sold. I dare say he is probably the best sales person I have ever delt with on any purchase. The dealership as a whole was VERY impressive. Everyone was extremely nice and helpful including yourself when I came by that afternoon on my bike and we had a great talk. Being in sales myself, I automatically critique people and businesses when I make a purchase and your dealership far exceeded every expectation I had. I look forward to doing business with LRCF for many years to come and will highly recommend you to all of my contacts. Thanks for everything!!
Rob,Supply, NC
"Community"
AJ - Wanted to thank you again for sponsoring the MAD MEN event. Hope we can come up with another event to do together soon. Wilmington is very lucky to have you and Courtney to bolster our community with your generosity and vision for the creative. Hope you and yours have a wonderful summer. Very best, Jess.
Jess James, Wilmington, NC
"William"
Matt Meakin is a true professional. Very talented, committed sales guide.
New Buyer
"New Buyer"
The process was very easy and I was able to get the car I wanted. Karl did a very nice job keeping me informed and preparing the car for delivery. Karl also was very helpful in explaining the features and controls. I have already had an experience with service and they were also responsive and very easy to work with in completing the requirements. Thanks.
Lisa, Wilmington, NC
"New Buyer"
Matt was great. He searched for exactly what I wanted and was patient and considerate of my time. He kept in constant contact without rushing or trying to compromise my wants. He did a thorough job explaining the car and services offered by land rover without being pushy. I had several options as to where to buy my vehicle seeing as the one i wanted needed to be shipped and no dealer was local and I am glad I chose cape fear and will definitely return when I purchase again.
Terri,New Port, NC
"Community"
Thank you so much for all of your generous donations. Mint Julep Jubilee was a huge success thanks in large part to you.  Your commitment to the enrichment of youth in our community is sincerely appreciated. Thanks again for your generous support.
Mint Julep Jubilee Committee
"Exceptional Service"
I receive excellent customer service and Land Rover Cape Fear. I feel like I am valued as a customer. They do an excellent job communicating with me. They give me a loaner car when available. My car is ready on time and always clean when I pick up. They are friendly and courteous.
Cynthia, Wilmington NC
"Gregory"
Everyone at the dealership is great. They are 110% committed to complete satisfaction, and went the extra mile, as they always do, to ensure that everything was taken care of.
Exceptional Service
"Loyal Customer"
Love the guys at LRCF......love the Range Rover....a true modern classic
Wrightsville Beach, NC
"Loyal Customer"
AJ: I wanted to reach out to you personally and tell you about a recent experience I had at your dealership. I have had the fortune to own quite a few vehicles (mostly considered luxury) and I consider my experience at your dealership to be one of the best. I understand that the spirit and attitude of service comes from the top down, which means you are primarily responsible for the professionalism and the great experience I have each time I visit. Therefore, I wanted to thank you personally as it is certainly refreshing to know that people like you still exist. I apologize if this sounds somewhat like hyperbole, but it is sincerely how I feel about my experience. It is my hope that you receive e-mails were communications like this routinely, but I know in today's climate that generally does not occur. Nevertheless, keep up the good work as it is noticed and consequently I will refer everyone I can to your dealership. 
Thanks again for all that you do.
Warmest regards to you and your team,
David, Wilmington NC
"Exceptional Service"
This dealership remains one of the best I have ever done business with and I have been a loyal customer of their's for about 7 years. The owner sets a high example for others in his industry.
Don, Wilmington, NC
"Prospect"
Good Morning Mr. Aliah,
I just wanted to drop you a line and compliment you on your Discovery Center and Staff.  My Husband and I came in last night to check out the new Evoque.  This was the first time either of us had ever been to a Discovery Center and we couldn't have been more pleased.  I know that you probably receive mostly negative feedback from Clients, but I wanted to share some positive feedback with you that is well deserved on behalf of your product and Staff.  We worked with Karl and he could not have been more hospitable, knowledgeable, or patient with us.  He is definitely an asset to your Center!!  We enjoyed our time with him as well as meeting Mr. Duffy.  Below is the email that I recently sent to Karl as a thank you, but I also wanted you to be aware of our experience:
Karl,
We just wanted to thank you for all of your hospitality, wisdom and patience with us last night.  I know we had a lot of questions, but that was our first Land Rover experience as we stated, and you definitely made it a great one!  I have to say we were presently surprised with not only the vehicle itself, but the Discovery Center, the Sales Manager Mr. Duffy and yourself.  The entire car shopping experience is like something we have never experienced before, even at BMW and Mercedes, and I have to say we actually enjoyed it!!!  You are doing an awesome job and we hope that one day we will be Range Rover owners and part of the Cape Fear Land Rover Family!!
Thanks again and we look forward to working with you in the future!!
You all are doing a wonderful job Mr Aliah!  Thank you for your time and I hope you have a great Holiday!!
Jennifer
"Exterior Detail"
Thank you for the prompt and professional manner in which you dealt with the exterior wax service.  The truck looks great, and I will bring it back when it needs another one.
Don,Wrightsville Beach, NC
"Exceptional Service"
Last Thursday the 23rd my girl friend and I decided to head to Wilmington for a few days. As the owner of two retail business I don't get much of what I call free time. With 107 miles to go the air-conditioner decided to blow hot air and as you can imagine our thoughts of a great getaway were beginning to boil. We decided to stop by your dealership and just see if by chance they would look at the air-conditioner. We were introduced to Mike Lunsford and the rest is truly an exceptional service experience. Keep in mind I have never been in your dealership before. Mike personally took us to our B&B in the historical downtown district in a car that had a working air-conditioner and he repaired my air-conditioner at no charge to me. When I decide to buy my third Range Rover I will be in your dealership and you can thank Mike Lunsford for that.
"Repeat Buyer"
Matt,
Just wanted to express my thanks for the great work last week on the Range Rover Sport.  Lila and I know you went above and beyond, to include working on a day off, to pull this together for us.  We couldn't be more pleased with the vehicle, it's really top shelf and I'm sure it will serve us well in the years to come!  Lila will stop by on Friday to drop off the DVD case for the LR3 NAV system.
Jon, Jacksonville, NC
"Loyal Customer"
We are big believers in LRCF and continue to be very satisfied with their performance and flexibility. Very convenient to have someone come up and swap out vehicles while we were at work - it's details and service of that caliber that keep us in Land Rovers - that, and the fact that we love the vehicles.
Jon, Jacksonville, NC
"New Buyer"
Thank you Land Rover Cape Fear for your outstanding service. Karl Scott - you are amazing. You took the time to make sure that my Range Rover was perfect. We will definitely recommend your sales expertise to others. We are very impressed with the knowledge, patience and professionalism that you provided. Thank you, Greg & Melissa.
Melissa, Jacksonville, NC
"Community"
Dear Mr. Aliah,
I want to thank you so much for your support of the American Heart Association and especially the 2012 Cape Fear Heart Ball! As the very surprised and fortunate recipient of the lovely diamond necklace that you and Land Rover Cape Fear donated, I want to thank you for your kind generosity! It was a lovely evening with good friends - for a great cause! Thank you so much for all you do for our community! Sincerely, Beth.
Beth, Wilmington, NC
"Community"
AJ,
Thank you so very much for the generous donation of the photo booth to the Landfall Foundation Gala, it was a huge hit and the pictures came out beautifully! We raised over $200,000 this year for local charities and without our donors and sponsors it would not be possible, so thank you again!
Tyrrell, Wilmington, NC
Hours
Monday

9:00am - 7:00pm

Tuesday

9:00am - 7:00pm

Wednesday

9:00am - 7:00pm

Thursday

9:00am - 7:00pm

Friday

9:00am - 7:00pm

Saturday

10:00am-6:00pm

Sunday

Closed
Make an Inquiry
* Indicates a required field